DEEP TISSUE BO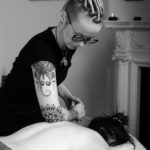 The combination of light and very deep strokes in a deep tissue massage can really get to those tensed muscles. You can choose this massage to be either relaxing, invigorating, or a mixture of both. The effects are enhanced by a customised blend of aromatherapy oils used in the treatment. It will make you feel revitalised and relaxed, but in the same time you will know that some work has been done to relax areas of muscular tension.
120min- £120
SPORTS BO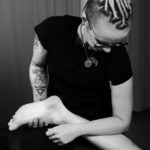 Focusing on areas of long term tension or past injuries, this massage goes deeper than any other. Highly recommended before, during and after physical activity, for sports related injuries, for sufferers of chronic pain and for people who have restricted movement. I often combine sports/ remedial massage techniques, Thai massage and stretching, Myofascial Release and mobilisation.
I have a more gentle approach than many Sports Massage therapists. Whereas it can feel intense or a bit uncomfortable at times, I think that too much pain doesn't bring any gain because it causes the muscles to tighten and the therapist to work against them not with them.
60min- £60
90min- £90
120min- £120
To book call Alicia on 07792456325 or email alabodnar@gmail.com